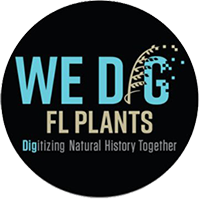 Contact
Organization
WeDigBio
Partners
Florida Native Plant Society, The Southeastern Regional Network of Expertise and Collections, The Worldwide Engagement for Digitizing Biocollections (WeDigBio) Event, and iDigBio, the US National Resource for Advancing Digitization of Biodiversity Collections.
Funding Source
National Science Foundation under Cooperative Agreement EF-111520 and DBI-1547229 and awards DBI-1458550 and DBI-1410288. Any opinions, findings, and conclusions or recommendations expressed in this material are those of the author(s) and do not necessarily reflect the views of the National Science Foundation.
Description
Build the historical baseline for plant diversity and distribution in Florida.
WeDigFLPlants is a collaboration between professional research botanists, amateur naturalists, gardeners, educators, and citizen scientists to build the most complete picture possible of plant distribution and diversity in Florida over the past 200 years. The data for this historical baseline come from archived plant specimens curated by the world's 3,000 herbaria. Each of these specimens includes a label that answers the who, what, when, and where of the collecting event that produced it. Transcribing that label data into digital form and providing that data online at aggregators like idigbio.org and gbif.org makes it available to scientists, educators, natural resource managers, and policymakers addressing societal challenges today and in the future. Today, there are >4,700 species of plants native or naturalized in Florida. WeDigFLPlants is an inaugural interest group associated with the annual Worldwide Engagement for Digitizing Biocollections (WeDigBio) Event.
Incentives
Contact Austin Mast for a thank-you WeDigFLPlants sticker (after 50 transcriptions) or WeDigFLPlants hat (after 200 transcriptions). Local WeDigFLPlants event organizers should contact Austin Mast to receive WeDigFLPlants stickers to hand out to participants at their event.
Geographic Scope
Florida, U.S.A.
Taxonomic Scope
Plants
Temporal Scope
1800–present
Language Skills Required
English and perhaps occasionally Spanish
Activities
Online transcription of herbarium specimen labels at Notes from Nature (notesfromnature.org)
Resources
Help Behind-the-Scenes at a Museum as a Citizen Scientist
http://www.cpalms.org/Public/PreviewResourceLesson/Preview/171734
2018 WeDigFLPlants Team Challenge
https://www.youtube.com/watch?v=eoaP_AX_AwY